A guest wireless network is now available (QueensU-Guest) for users that do not have a valid NetID and need access to the internet only. The guest network requires a user ID and password to connect. Guests can self-register for access for 24 hours, or their departmental ITAdmin rep can create a sponsored guest account for an access period for one week or one month. To connect to QueensU-Guest network users must:
Have a guest account (by self-registering or with a sponsored account)
Accept the Terms & Conditions
How to Access QueensU-Guest
Open the wireless connection tab on your laptop or mobile device. This will display a list of available wireless networks for you to connect to.
Tap on the "QueensU-Guest" wireless connection to automatically connect
Once connected, you will be automatically redirected to the Guest Wi-Fi Self-Registration page.


**Note: If you are not redirected to the guest wi-fi login page, open a browser and navigate to your favorite website to trigger a redirection to the guest login website. **

You will now be able to log into the guest network by completing the self-registration form or by using your sponsored guest account (provided by IT Admin Rep)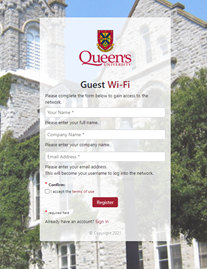 **Note : You can alternate between guest and sponsor login web pages by clicking on the link at the bottom of the page.
Self-register page: Login page for users with an account: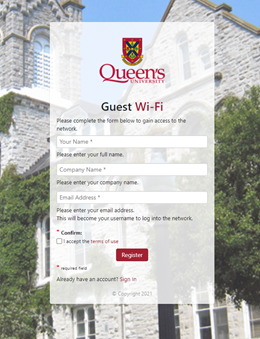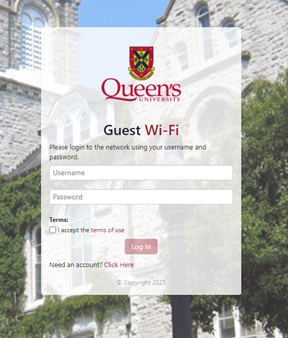 Users can alternate between the web pages by clicking on the link at the bottom of the page.